Resources
Control*Alt*Achieve: Transforming Education with Technology
Technology can be a powerful tool to assist students with special needs or any sort of learning challenge. In particular the Chrome web browser allows users to install a wide variety of web extensions that provide tools that can help all learners, regardless of ability level.

Click the link above to view over 30 Chrome web extensions that can assist students in five main categories:
Text to Speech
Readability
Reading Comprehension
Focus
Navigation

Additional Google Chrome Resources
Google for Education
Click the link above to access free, self-paced training for teachers to learn more about Google Classroom, Google Drive, etc. Training is available starting with the basics and then progresses into more in depth uses.

Teacher Tech with Alice Keeler
Click the link above to access a tour of Google Classroom, resources, tutorials, add-ons, templates, and other cool ideas for using Google sheets, docs, forms, etc.!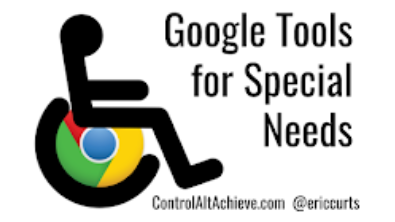 Teachers can provide instruction in literacy skills and content-specific reading skills; however, if students are not provided with access to interesting books that they want to read and can read with success, they will never reach their full literacy potential (Gambrell, Malloy, & Mazzoni, 2007).
District 55 has implemented the 30 FOR 30 READING INITIATIVE this year. Every student spends 30 minutes of uninterrupted time reading each day at school. Parents are asked to support this initiative and to expand it into the home. Every student should spend at least 30 minutes reading at home at least five of seven nights per week. Make it a household tradition - - turn off the electronics, grab a book or magazine, find a comfortable place and escape to the world of reading! You won't be disappointed!
Social, Emotional, and Behavioral Resources
What is PBS?
Positive behavioral supports is a behavior management system used to understand what maintains an individual's challenging behavior. People's inappropriate behaviors are difficult to change because they are functional; they serve a purpose for them. These behaviors are supported by reinforcement in the environment.

See more at PBIS.
What is Positive Reinforcement?
Positive reinforcement is a very powerful and effective tool to help shape and change behavior. Positive reinforcement works by presenting a motivating item to the person after the desired behavior is exhibited, making the behavior more likely to happen in the future.
Caught Being Good cards and activity cards:
Teacher Tip: Place a label on some sort of bucket/container. When students are "caught being good" hand them a card, have them write their name on it, and place it in the container. When you need a helper, draw a name from the bucket!


Create a free account with TeachersPayTeachers for more free Caught Being Good Cards and resources!
Visual Cues
Social/Emotional and Behavioral Resources:
Autism Spectrum Disorder
Free Resources for Teachers and Families:
Preparing Students for Post-Secondary Goals and Transition
Parents and guardians naturally worry about their children's future. They want to make sure their children are ready for work, college, living on their own and all the other things that come after high school. Transition services help prepare students with disabilities for adult life.

In South Carolina, transition services begin when the student turns 13, with the transition planning occurring before the student's 13th birthday. For students who receive special education services, their IEP must include a statement of goals for the student after high school and the transition services needed to reach these goals.
Transition services can be used to help students get ready for:
College
Technical School
Work
Adult Education
Adult Services
Living on their own (Independent Living Skills)
Participating in their community
Student's Role:
The most important person for transition planning is the STUDENT. The plan should be based on the student's needs. The team should take into account what the student is good at, what the student likes (interests), and what the student wants to do after high school.
Other Input:
Transition planning should also include input from other key team members who know/work with the student. These persons may include: teachers, parents/guardians, school district transition experts (e.g., transition coordinators, career specialists), others who work with the student (e.g., therapists or counselors), outside agencies who work with adults (e.g., Vocational Rehabilitation), and an LEA representative