Joe R. Adair Outdoor Education Center
Welcome To The Joe R. Adair Outdoor Education Center
a month ago
The purpose of the Joe R. Adair Outdoor Education Center is to serve as a learning center for children and adults in Laurens County. The property, given to the Soil Conservation District in 1992 as a gift by retired Soil Conservation Service employee Joe Adair, also includes an office and classroom building, nature trails, and a picnic area. Instruction at the center focuses on the natural sciences and soil and water conservation. The center opened on March 22, 1996. Since that time, thousands of students and their teachers have experienced "hands on" education at the center.

Classrooms
The upstairs classroom is home to several animals that fascinate and delight students as they learn about the natural world.
Downstairs students can connect with their inner scientist in our science lab.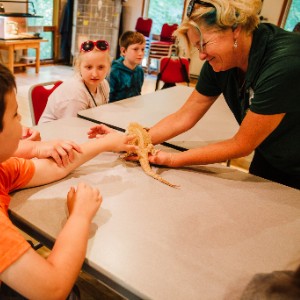 Open to the Public
There are 2.4 miles of trails full of exciting opportunities to immerse oneself in nature.
Scout Creek meanders through an urban forest of mature hardwoods and thriving ecosystem.
Visitors can enjoy lunch or snacks at our picnic shelter.
History
An authentic Laurens County log cabin, which dates back to the 1800's, was donated and carefully relocated to the center property. The log cabin site features a pioneer setting with an outhouse and a garden.

School groups tour the cabin to catch a glimpse of what life was like 200 years ago.
Team Ecology 2023
a month ago
Team Ecology is a week long adventure!



All of the public school 3rd grade students come to the center to learn about composting, pollinators, recycling, soils, watersheds and more.

Interested in volunteering?
In 2022, we had 40 adult volunteers! It takes a lot of help to organize and teach 700 third graders in a week.
We would love to have you join us! If you are interested, click here to sign up.
Michelin STEM Challenge December 2022
a month ago
3rd Grade Rolling Vehicle Challenge


Students will work in teams to build a vehicle that fits into a 15 cm by 20 cm box. Each class will race to find a classroom winner that will compete with other third graders in both Laurens District 55 and Laurens District 56. Students will compete to find the fastest vehicle and the vehicle that will go the farthest.
4th Grade Wind Powered Vehicle Challenge



Fourth grade students build a vehicle that is powered by wind. Teams build on what they learned last year about rolling vehicles. They use their imaginations to design a sail that will make their vehicle travel the fastest and the farthest.
Field Trip Information
a month ago
Planning a Class Visit



The Joe R. Adair Outdoor Education Center is free for all public schools in Laurens County School District 55 and Laurens County School District 56. For groups that are not affiliated with the public school system there is an hourly fee.

Ms. Towne will design a field trip experience for your class based on your needs. We can cover any science standard you would like!
Field Trip Request
Teachers, you may access the request form here.
You will receive a reservation confirmation via email if the requested date is available.
Be sure to include the following information in your request:

2 or 3 possible dates of visit

school name

grade level(s)

number of students

number of teachers and chaperones (The districts require chaperones to have volunteer training to come to the center.)

standards you want to have covered during the visit
Please feel free to contact Ms. Towne by phone at 864-501-6983 should you have any questions.
Lessons
a month ago
*These are just a few lessons that are currently available. Ms. Towne can find lessons that apply to any standard you wish to cover! Each lesson lasts about an hour. STEM challenges may take more time.
1. Animals of the Adair Center (Can be adapted for age group)
Students will look at the animals currently housed at the Adair Center. We will talk about their basic needs, adaptations and how to be responsible pet owners in addition to reviewing vocabulary.
2. Bird Beak Game (Can be adapted for age group)
Students will be a bird for this game. They will use 3 different types of beaks to "hunt" with. Students will have 30-45 seconds each round and they must determine what type of beak works best for each type of food source.
3. Nature Trail Walk (No Paper)
A relaxing but educational walk on our Nature Trails. We will stop and talk about plants and animals as we see them on the trails.
4. Nature Trail Walk (Scavenger Hunt)
Students will have their own scavenger hunt paper while on the trails. They must look for different types of plants, animals, food sources, water sources, plant and animal defenses, and many more!
5. Owl Pellet ($2 Cost per Student)
Students will dissect an owl pellet. Students will separate the bones of the prey animals of the owl onto a bone chart.
6. Sand, Silt, Clay
Students will look at premade jars of soil mixes. We will shake the jars up and look at them in one hour and see how they settled. In between looking at the jars, we will use soil sifters to separate sand, silt, and clay.
7. Cabin Tour
Students will tour the old pioneer cabin. Students will look at the different tools used to build the cabin and different items in the cabin.
8. Making a Mold and Cast Fossil ($2 Cost per Student)
Students will make a mold and cast fossil using modeling clay and plaster. They will need to take them home/back to school and let them dry for a day.
9. Marble Roller Coasters
Students will apply their understanding of those concepts as they construct and test their roller coaster. Through a cycle of building, testing, observing and revision, students will gain an experiential understanding of fundamental physics concepts and the basics of successful roller coaster construction. Students will also have an unstructured opportunity to hone teambuilding skills as they communicate with their peers during roller coaster construction.

(Used plan from http://www.instructables.com/id/Marble-Roller-Coaster/ )
10. Games and Smores
Teachers will provide the items necessary for S'mores. Ms. Towne will discuss fire safety and teach students how to successfully roast the perfect marshmallow! Afterwards, Ms. Towne will play games with the students to simulate limiting factors in nature.
Collaborative Opportunities
a month ago


From Seeds to Shoreline
This is a year long program where classes can participate in Salt Marsh Restoration. Classes will germinate seeds, cultivate seedlings and go on a field trip to transplant Spartina Alterniflora in a designated area along South Carolina's coastline.

For more information, click on the salt marsh photo.


SC Adopt A Stream



School groups will learn the importance of water quality as they learn about stream habitat and pollution sources. They will practice collecting samples, identifying macroinvertebrates and carry out tests to determine chemical levels as well as the presence of bacteria.
This activity will allow students to become scientists in the field under the guidance of a certified volunteer.
Green Step School
Green Step Schools is a program designed to help South Carolina schools earn awards for establishing sustainability projects where students learn, do and teach others.
If you like to know more about this program, click on the picture. It will take you to the webpage where you can find more information.
Ms. Towne will be more than willing to work with you on a project!

Ms. Towne has undergone the training necessary for your class to participate in this wonderful learning opportunity. In addition, there are suggested lessons that can be done in the classroom that will support these projects. If you are interested or would like to learn more, please contact Ms. Towne.
Email: ttowne@laurens55.org
Phone: (864) 501-6983
Map of Trails
a month ago
Scout creek arboretum trail system
Come take a walk through a native hardwood forest. Scout Creek runs through the property and if you are really quiet, you might see a deer getting something to drink. As you walk, keep your eyes open for signs of the animals that make this urban forest their home. Click the link below to learn more about our trails.
Trail Maps
You can find laminated trail maps in a mailbox on the bridge. Please feel free to share any photos on our Facebook page!
Joe R. Adair Foundation Board Meetings
a month ago
September 8th Full Board Meeting
October
November
December
January
February
March
April
May
June
Interested in a Rental Venue?
a month ago


The Joe R. Adair Outdoor Education Center may be rented for birthdays, meetings, training, non-profit community organization events, and other approved activities.
The center may not be used for private or corporate gain.
If you are interested in renting the center, you may access the rental agreement here.
The Buzz About Bees!
a month ago
By Tanya Towne
Our honey bees!
This hive was donated to the center by the Laurens Beekeepers Association. The hive boxes were painted by students at Laurens Middle School. We are so excited to have these pollinators here!


Inside the hive
Honey bees are social insects, they live together in large organized groups. Bees create a comb that is a mass of hexagons. A hexagon is a 6 sided geometric shape. The queen lays eggs in these hexagons.
Some of the hexagon cells contains honey which the bees make using the nectar they gather from flowers.
Click on the picture of the hive to watch a time lapsed video of an active hive.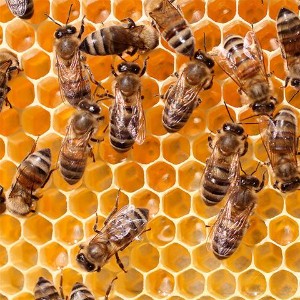 Pollinator Garden



We are very proud of our pollinator garden! This garden was a collaborative effort engaging several community groups. Clinton High School and Laurens District High School FFA students constructed the rock border, set up lighting and drip hoses. The Laurens chapter of Master Gardeners planted over 200 plants and bulbs. Local farmers and businesses also contributed resources to this project.
School groups can choose from a variety of lessons and activities about native pollinators.
Upcoming Events
a month ago
Fall Festival: Saturday Nov. 5th 9 am to Noon!
Free ice cream for the first 100 people!
DNR is bringing their educational trailer.
Laurens District High School FFA will be showing off some farm animals.
Clinton High School FFA will have plants from their greenhouse for sale.
The YMCA will be there with a bouncy house.
Meet some community groups and shop from local vendors.
Sorry, but there was nothing found. Please try different filters.